✓
Understanding The Correct Way To Wear Tiaras
One of the oldest wedding traditions is people wearing different bridal tiaras to complement their wedding gowns. Nothing makes women feel more like a queen than this basic piece of jewelry when it complements their bridal ensemble. The simple truth is that few ladies wear them on a regular basis so they are typically unsure how properly wear them. It may seem surprising that there is several different ways to effectively wear them.
Many people will insist that it is as simple as putting them on your head, smiling and looking beautiful. Truthfully there are as many different ways to wear them as there are types of tiaras. They can be put on the very front of the head, on the crown of the head, even on the back. There are even ones that can be placed as circlets through the hair as rings. The biggest factor is how the lady decides to wear her hair.
The common place to wear it is the hairline by the very front of the head. Often this is done when a bride pulls back her hair. The tiara frames the hairline with the natural lighting from any gemstones that might be in it. Recently women have put highlights into their hair to help draw more attention to it.
Some women prefer wearing them on the top of their hair leaning either back or forward. This is a basic classic look with its roots based in tribal culture. Be careful that whatever hair styles are used does not take too much attention from the tiara. It is critical that its feet are flexible and long enough to take the shape of the wearer's head.
Some people are experimental and willing to try to wear them around the back of the head. In a way this makes sense because this is what most people will see during the wedding ceremony. If you do decide to experiment with this style, get some good advice from your stylists for what to do with your hair.
Another style is using a semi-flexible tiara for a bun wrap. Some times carefully hidden rubber grips may be used to stop them from moving around. If you plan to try doing this, try to get one that has somewhat thin feet that make it easier for them to be pinned down in place.
The simplest way to put them on is leaving the hair down so the tiara sits like a small feminine crown. Wearing them like this allows you to pull your hair in braids or a ponytail or have it combed straight down. They are not meant to be put on like a headband. Rather, place it so its comfortable then push it in and down slightly.
Wedding tiaras are an old tradition that is based on historic customs and beliefs. It is something that is unlikely to go away any time soon. Whatever style you decide to go with, nothing will make you feel as much like a queen on your wedding day.
You can visit the website www.glamourgoddessjewelry.com for more helpful information about Looking At The Simplest Way To Wear Tiaras
Videos Related to » Understanding The Correct Way To Wear Tiaras: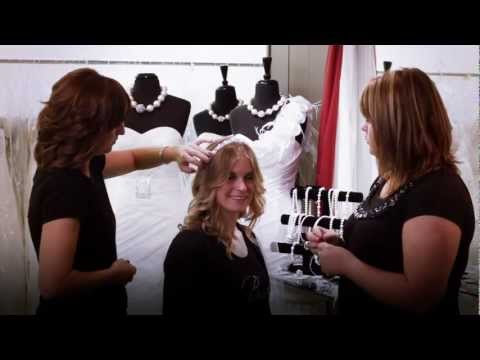 how to wear a tiara tips to help you choose - Get your free tip sheet from bespokenfor co uk blog fre Thanks for watching - If you ...
---