✓
Tips For a Draught Free Home
Insulating your home is a great way of cutting down your heating bills and of reducing your carbon footprint. Some jobs, such as cavity wall insulation, are best left to the professionals, but there are plenty of other things that you can do for yourself. All you have to do is identify the areas where cold air is coming in and warm air escaping, and then seal them up.
A good place to start is with the external doors, where the gap between door edge and frame is often wide enough to let the chilly air in and the warm air out. Even the space underneath internal doors can be problematic, as the warmth from the main living areas leaches away to the colder parts of the house.
The best way to weatherproof your front and back doors is to attach strips of self-adhesive draught excluder to the edges. This comes in rubber, foam and brush pile versions. For interior doors you just need to find something put at the bottom; you can always buy the traditional stuffed snake, or even make your own out of a very long sock!
Windows are another way for draughts to sneak into your house, forcing their way in through the gap between window and frame. Sash windows can be particularly vulnerable when it comes to letting in cold air.
Again, draught proofing strips will do the job, assuming that they are opening windows. Another option, which will also work with fixed windows, is double glazing film. This costs around ten pounds for enough to cover four standard sized windows. It attaches to your frames with double sided tape, and shrinks down to a nice, taut surface when you fire a hairdryer at it.
Bare wooden floors are a popular feature of houses these days, but those which are over unheated spaces such as cellars or garages can let precious warmth escape, as can the suspended floors that you often find in older buildings. You can either get a professional in to fit insulation sheets between the floor joists, or you can insulate your floors yourself by other means.
Flexible insulation seal, which you squeeze down between your floorboards, is widely available in 40 metre rolls. Prices start from around twenty pounds. You won't see any difference to your floor after you fit it, but you should feel it! For sealing around your skirting boards use decorator's caulk, prices for a 300ml tube start from about one pound.
None of these measures are particularly expensive nor difficult to carry out. It is estimated that a typical house loses around 20 per cent of its heat through its doors and windows and 10 per cent through its floor, so insulation of these areas should make a noticeable difference to the temperature inside your house. 25 per cent of a house's heat is thought to be lost through the roof, so, if you are fairly handy at DIY, you could even install your own loft insulation.
If you require sash wood windows, come to our website. You Choose Window Brokers fit a widechoice of products for our satisfied customers.
Videos Related to » Tips For a Draught Free Home: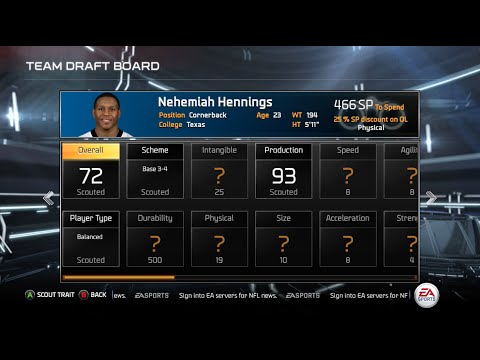 madden 25 tips and tricks - how to get 2014 draft - YouTube home Upload Sign in Madden 25 Tips And Tricks - How to get 2014 Draft Class ...
---